Sanford Brut Cuvee Santa Rita Hills 2015
Sanford Brut Cuvee Santa Rita Hills 2015 Sanford is a legend when it comes to Burgundy varietals in California…turning those same estate grapes into sparkling wine made in the Champagne-style? Let's go!!
Why We Love It...
It's the seventh day of the seventh month and while I say often and loudly that I'm not superstitious… it doesn't hurt to try and increase your luck every now and again. So I'm buying a lotto ticket, and today, we're featuring the FIRST EVER wine we sold here at Last Bubbles! We cleared out the last of the winery's stock on this, and trust me, if you love Champagne, you're in for a surprise! 94 points, Over 50% off, from a historic Cali-producer… Sanford is back!
If you know just one Santa Barbara winery, Sanford is where it all begins. They were among the very first to plant vines in the region – with the iconic Sanford and Benedict vineyard claiming a rightful place in the annals of California vineyard history – all the way back in 1971. Their pinot noirs and chardonnays are the stuff of legend, and whilst a traditional champagne-style sparkling wine is their newest endeavor… one sip and you'll agree – the sky is the limit.
The cuvée stands at 68% pinot noir and 32% chardonnay, with the wine fermented in barrel for added depth and richness. In the glass, this golden hued, richly layered wine supports a delicate mousse with zesty and lively aromatics of pink grapefruit and ripe nectarine. On the fruity, expansive palate, taste more of the same with the additions of lime zest, lemon custard, Bartlett pear, and crushed hazelnuts. Almost Taittinger-esque stylistically, this is round and generous, with fruit harnessed by focused acidity that coaxes into a pleasingly dry finish. Top-notch sparkling wine that many will happily confuse with Champagne! If you got this before… you probably need to re-stock those coffers! And if this is your first chance with Stanford's epic bubbly – definitely get more than you think!
Technical Details
Country: United States
Region: California
Sub-Region: Santa Rita Hills
Appellation: Central Coast
Varietal: Champagne Blends
Winemaker: Trey Fletcher
Farming Method: Sustainable Practices
Aging / Cooperage: 32 Months on lees
Brix at Harvest: 19
Alcohol: 12.5%
PH: 2.92
TA: 9.96 g/L
Production: 492 cases
Pair it with: Seared filet of halibut with cauliflower puree and parsley coulis
Sanford Winery
Sanford Winery
Sanford Winery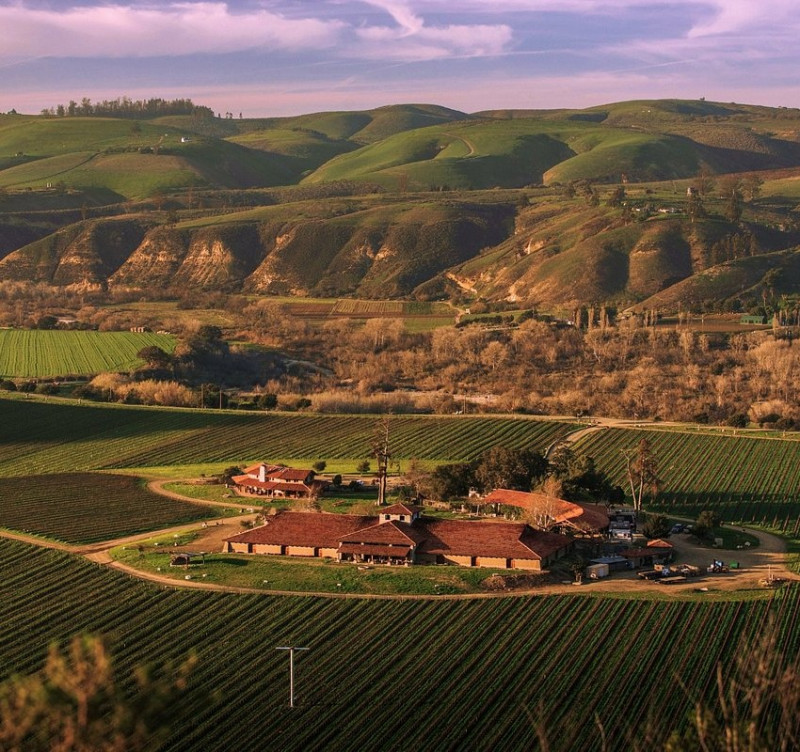 Sanford Winery
Sanford Winery
Sanford Winery
Next
About the Producer
Sanford was one of the first wineries to plant vineyards in Santa Barbara in 1971. Sanford's iconic Sanford and Benedict Vineyard started the AVA and contributed to the plantings of the vineyards around them but using cuttings from the site. This vineyard has set the bar for quality in this wine growing region and is home to some oldest Pinot Noir vines. The winery is currently owned by the Terlato Family and now comprises two sites: Sanford & Benedict and La Rinconda.
Your daily bubbles
We're wine drinkers, collectors, and part of the global wine trade. Mostly, we are totally stoked to bring you incredible bubbles at the best prices we can possibly obtain, every day.